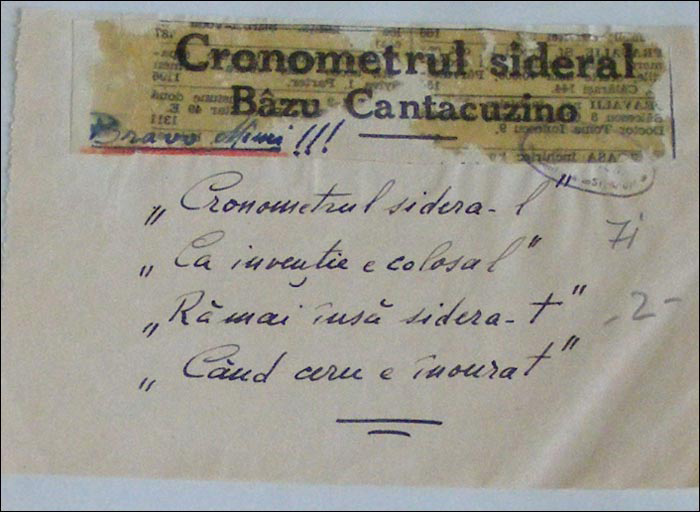 Bazu Cantacuzino – inventor "chronometer - chronograph"


On 19.December.1936, 13 hours and 23 minutes, in Paris, Constantin M. (Bazu) Cantacuzino through the D.A. Casalonga legal office [8] solicits to the French state the invention patent for a: "Dispositif donnant simultanement l'heure en unites usuelles de mesure du temps et en unites usuelles de mesure d'arc / Device that shows simultaneous the hour in usual time measuring units and usual units for arc measurement." (see scan [8])


The solicitation was accepted on 5.April.1937 and published on 8.July.1937 receiving the invention patent number 815211.

The preoccupations of Bazu Cantacuzino for such a "device" were superimposed on his will to participate to a raid all over the world. Such an opportunity existed towards the end of 1936 when he wanted to fly in the Paris-Saigon raid with the "recent" received "Dacia" aircraft (a biplane, with low wing, Caudron 640 "Tiphon" type, each equipped with two Renault 220 CP engines). So, between 14-30.November.1936 Bazu Cantacuzino was in Paris, occasion with which the documentation of the patent was drawn up. An image (from the French source) of the aircraft board and in the mentioned period, hereafter, by the amiability of Horia STOICA (Brasov) a passionate of Romanian aviation history.

photo: 16/10/1936 | Bazu Cantacuzino and the mechanic Dufraine


Although this kind of "chronometer - chronograph" was never made on the base of Bazu Cantacuzino's patents, existed a preoccupation towards this kind of epoch watches.

Longines has launched at the end of 1931 the famous Lindbergh.

The idea of Bazu Cantacuzino was however much closer to another Longines watch called "Siderograph" launched sometimes during 1932-1940; the different bibliographic references weren't "in accord" over a certain date.

Still, the watch that will become "the first genuine navigational watch for pilots in aviation history" however becomes "Longines Weems Navigational Watch" in 1939.

photo: Longines – Lindbergh, "Siderograph", Weems | "Wristwatches – History of a Century's Development" | H. Kahlert, R. Muehe, G. L. Brunner | 2005


There is no discussion that the attempt of Bazu Cantacuzino would change in any way the history of horology but this is, by far, the most spectacular Romanian attempt to mean something in this industry.


Constantin "Bazu" Cantacuzino was born on 11.February.1905 in Bucharest in a family with too known historic resonances for Romania. The story of his life, however remarkable, is narrated in numerous bibliographic references, either printed or on the web. It is known as Prim-As of the Romanian military aviation with a total of 69 victories (56 cert + 13 probable), in a military career ended at only 40 years and unreeled in fights against all important forces WW2 (SUA, URSS and Germany). He flew on Hurricane Mk I and Messerschmitt Bf-109G but in different attempts on Mig-3 or Mustang, when he had the chance.

On 13.January.1948 he had to get a refuge in Italy and ulterior in Spain.

He died in Madrid, on 26.May.1958, forgotten and in an unnatural anonymity for his extraordinary life.

* * *

I found out about the - Dosarul 50/1936 [7] (engl. Report no.50/1936)| "Brevet de inventie acordat lui Constantin M. Cantacuzino pentru cronometru-cronograf; Descrierea si modul de intrebuintare a cronometrului; Schita cronometrului" (engl. "Invention patent given to Constantin M. Cantacuzino for chronometer – chronograph; The description and usage instructions for the chronometer; The drawing of the chronometer") | the fund no. 1045 "C.M. (Bazu) Cantacuzino" | Romanian National Archives from Daniel FOCSA – historian, in October 2008, once with our correspondence about the history of the Escadrilei Albe (engl. White Squadron) about which Daniel FOCSA published an excellent "subjective history".

It is surprisingly how this information was ignored by all that have browsed Bazu Cantacuzino's life story.

I thank Daniel Focsa for giving me the chance to be the first that brought back to actuality this extraordinary history.