MILITARY LONGINES - PILOT | M.A.M. 1937


Through a report submitted in December 1935, The Romanian Air Force Commandment (approached by the Aviation Guard Fleet) was proposed to the Ministry of Air and Marine (M.A.M) that instead of "…endowing aircraft boards with board clocks, these should be procured by each pilot as bracelet".
So, there begun an action, spread during more than 2 years (1936-1938) by which the military pilots could chose for acquiring in 10 rates a dedicated wristwatch.
At that moment, through the commercial attaché of Switzerland that was having a Legation in Bucharest, there were made several offers request to four important companies: Ulysse Nardin, Longines, Omega and Zenith. Very quickly, in the first part of 1936 there were answers as offers from: Longines (that also presented 2 models of watches), Omega and Zenith. Later was also added the Heuer offer.

The competition was developed among these five producers and after several discussions in the final round of selection, there remained – Longines and Omega to which M.A.M. asked for pictures and supplementary details, also calling for a meeting of the responsible of several subordinated units in order to evaluate the potential acquisitions. The final decision was taken only in 1937 after the moment when the entire staff of the subordinated units could express its option and the majority decision was Longines with two of its models (6486/3824 respectively 6476/3811). So, there were enlisted:
- 161 pilots/military for "LONGINES chronometer" and- 40 pilots/military for OMEGA Pilot 1936 Here is the way in which the producers described their watches:

LONGINES 6486-3824 (please see the scanned offer):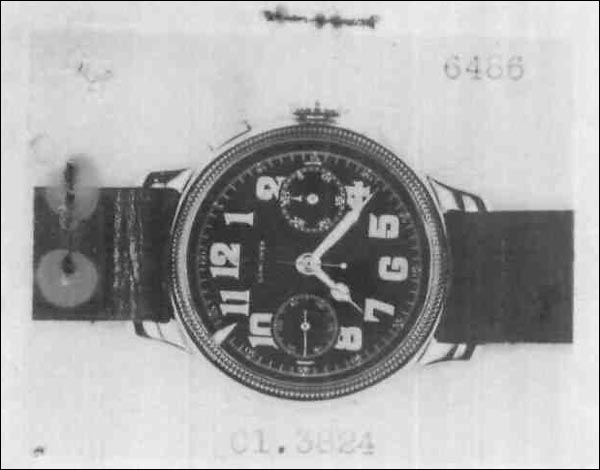 LONGINES 6476-3811 (please see the scanned offer):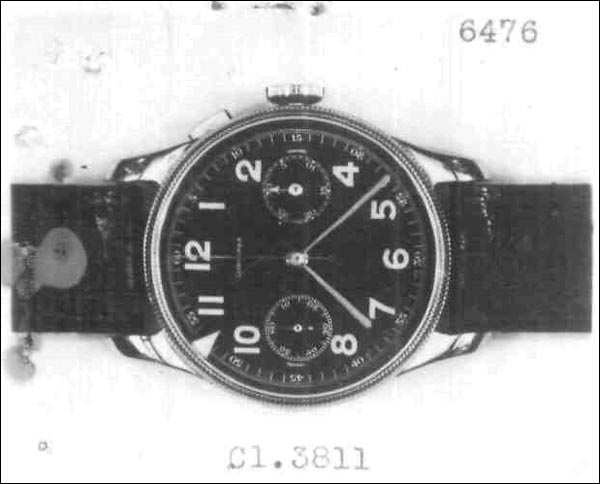 OMEGA Pilot 1936 (please see the scanned offer):
"OMEGA movement, robust and highly accurate.
Case made by stainless steel 'Staybrite'.
Exterior diameter ...... 46 mm
Dial diameter ... 38.5 mm
Special for aviation strap width ... 22.5 mm
Black dial, lighted figures and minute hand, made by best quality phosphorescent material.
Dial device for marking an important hour, such as the departure hour. ..."
Later on OMEGA has come back with another offer for another model - CK 710 presented in their catalog from 1937: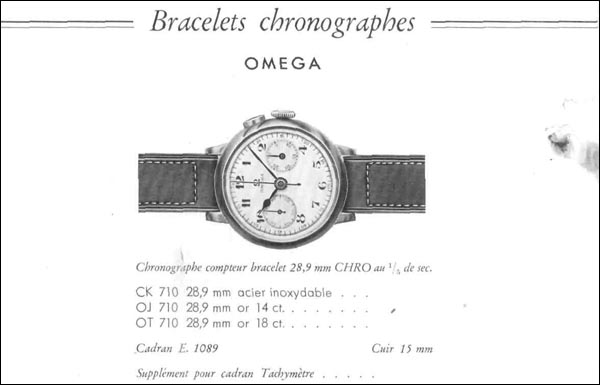 About the OMEGA watches there are no information that they were ordered and it seems that a large part of those who chose them changed their decision towards Longines. They arrived to an order of 215 pcs., much below the initial intentions of the Commandment that hoped for at least 500 pcs.
The deliveries from LONGINES made with delay from the settled terms by the contract 13425 / 19.august.1937 were done in two parts, during the interval of November-December 1937, and the distribution of watches to military begun with December 1937.
Of course that after the finishing of this contract there appeared several requests (especially from the Royal Marine that wasn't announced about this first order) but another order was not launched even if they insisted and they already had all the documentation, also considering the fact that Longines increased their prices with cca. 20%.
Here an interesting note: among the Longines offers for Romanian aviation from the year 1935 (that were at the base of this acquisition) was also included the Lindbergh model that was not taken into consideration in the M.A.M. evaluations.
The distribution towards the "troop" was made structured and the watches arrived as follows:
List of pilots that received Longines - M.A.M 1937 watches (movements serial ref. - 215 pcs.)

- - - - - - - - -
Certainly the other companies that presented offers deserve to be presented here. Especially since they offered very interesting watches for which there aren't many references today. To them I will dedicate a separate article!
- - - - - - - - -

IMPORTANT: The information was obtained with the help of Historic Military Archives – Pitesti. With special thanks to Mrs. Cosmina Lazarescu for the offered support.