DOXA Aquaman - review

In the second part of 2006, DOXA has launched, mainly for the markets in Asia and Eastern Europe, the model - DOXA Aquaman. The intention was to create a model that, through the specifications of execution, would be possible to be offered at a "supportable" price for these markets.

"DOXA Aquaman is a Swiss watch, that uses a Swiss movement and is manual assembled in Switzerland" explicitly noted a communiqué of the company as an answer to the questions of several passionate forum colleagues on the specialty forums that were suspecting the watch being manufactured in China.

In Romania the watch appeared in the distribution network of B&B Collection starting with 2007 at an approximate price of 640,- lei (ca. 200,- USD) and ulterior (2008-2009) promoted in a special offer of approximate. 450,- lei (ca. 150,- USD).
Which is an interesting price considering that for the USA market (available only through on-line sales) the price was and still is 499,- USD!

The model was quickly accepted by the Doxa fans, being an excellent acquisition for the ones that could not afford the already consecrated DOXA-SUB models whose prices are importantly higher.

The DOXA catalogue from 2008 presents 5 variants of color of the dial (silver, yellow, blue, orange and black) in a total of 6 variants of combinations dial – metallic cases, black - PVD.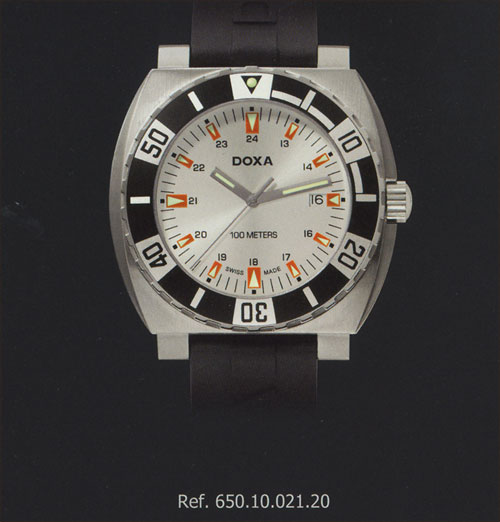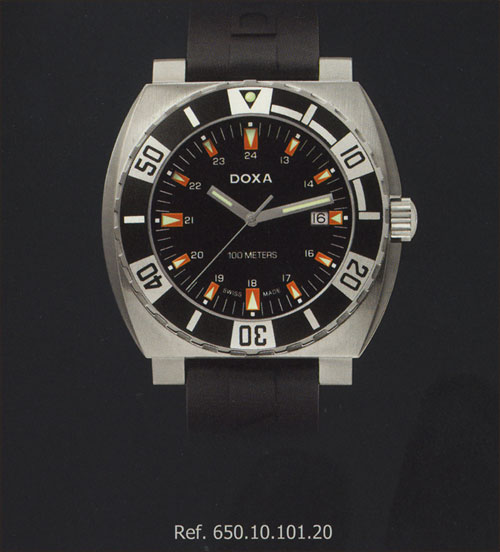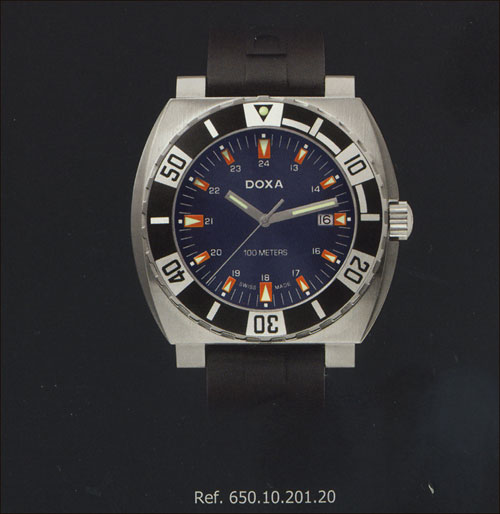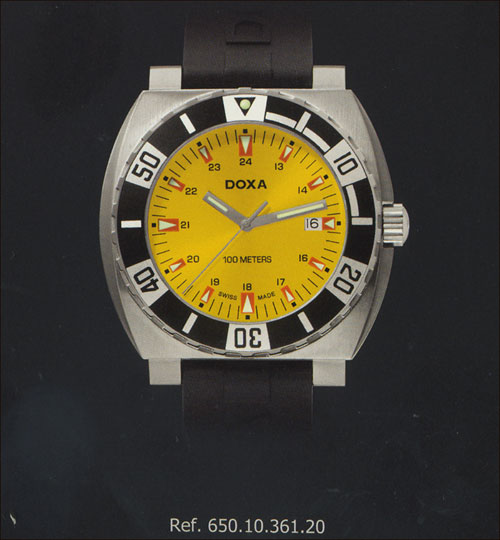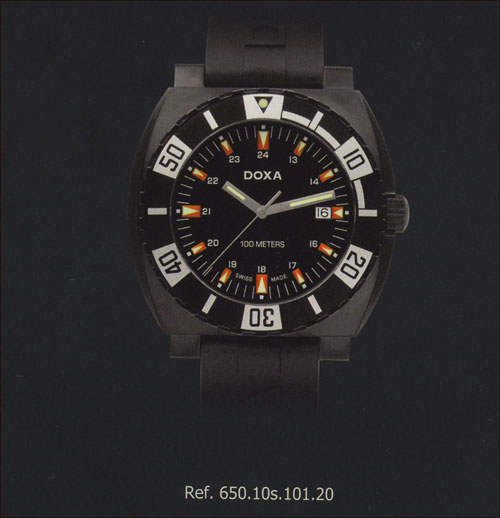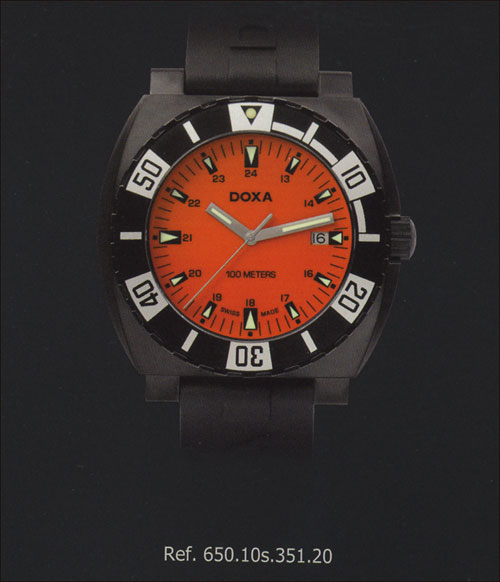 For all the variants, the watch has a black bezel with the indices for minutes in a silver quadrilateral. The watch is for the "water" passionate and consequently the bezel is unidirectional having accentuated the area of the first 15 minutes although considering the WR 100, is no way a diving watch.

On the bezel the minutes 10, 20, 30, 40, 50 are marked and for "60" appears the classical triangle with a dot of fluorescent paint.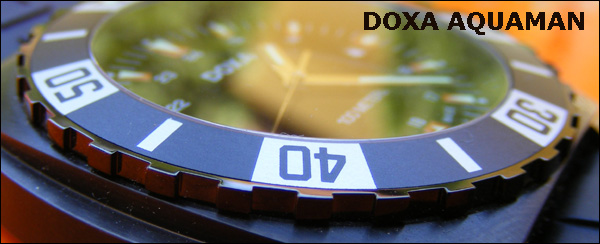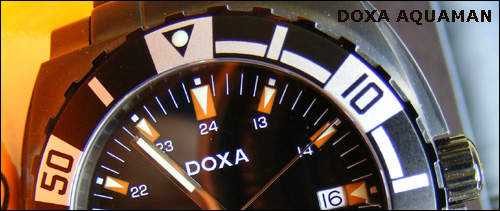 The dial has big orange indices, rectangular, fluorescent marked for the hours 1-12 and Arabic figures (in a design that reminds of military watches) for the PM 13-24 hours, as also the DOXA marking under 12:00!
The date is at 03:00 hours, the dial being marked "100 METERS" and "SWISS MADE". The glass of the watch is crystal sapphire!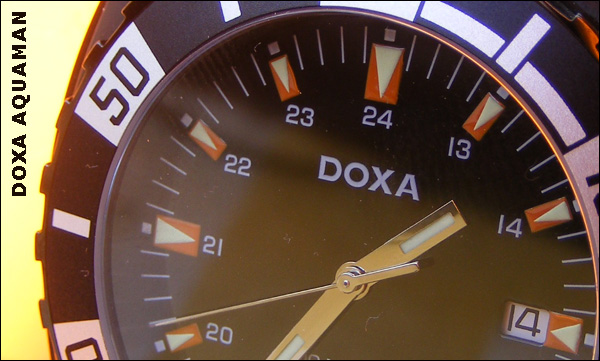 The crown is screwed, positioned at 03:00 hours and the distance in the telescope area is 20 mm.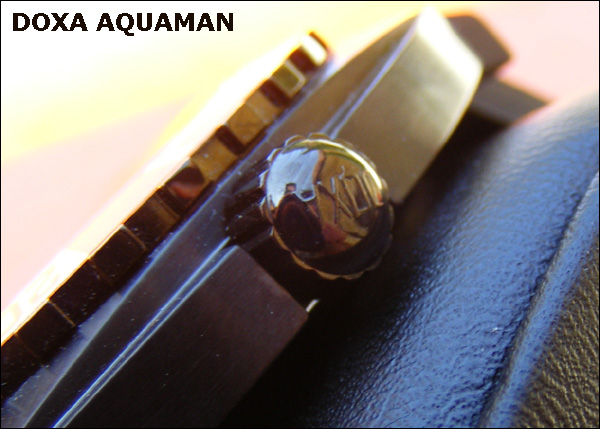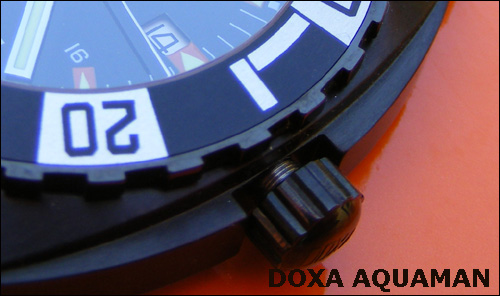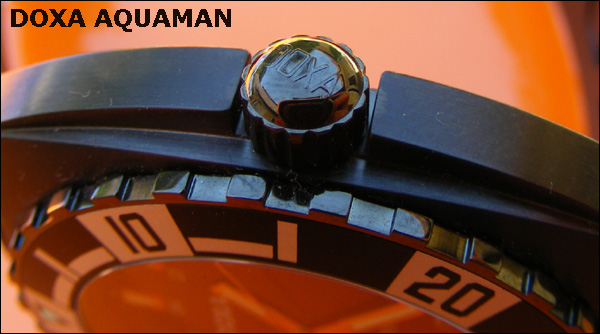 The back lid is screwed with a rubber fitting for tightness and marked:
"STAINLESS STEEL | WATER RESISTANT 10 ATM | SAPPHIRE CRYSTAL | SWISS MADE | 650.xxx" and central on the lid the "DOXA 1889" logo.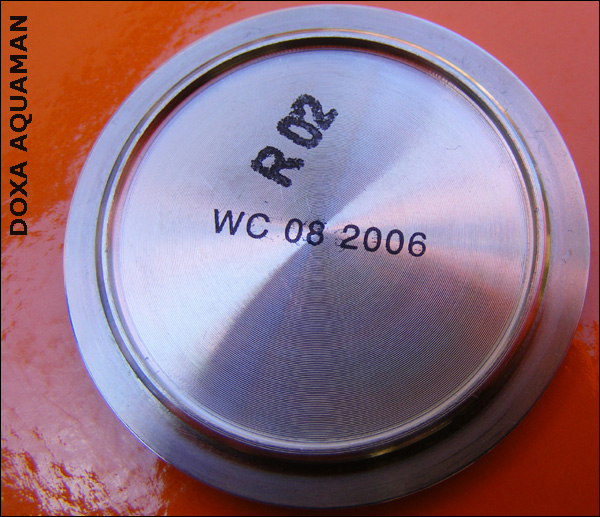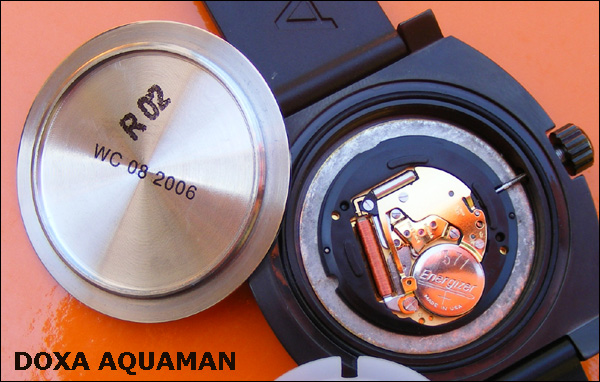 There are three variants of bracelets: rubber belt, stainless steel metallic bracelet and stainless steel metallic bracelet covered with black PVD.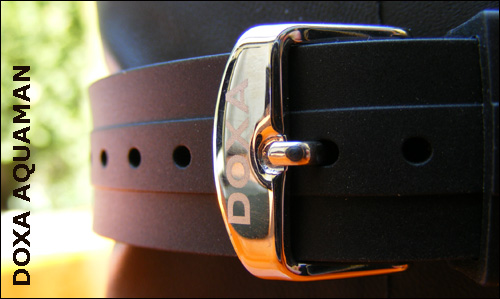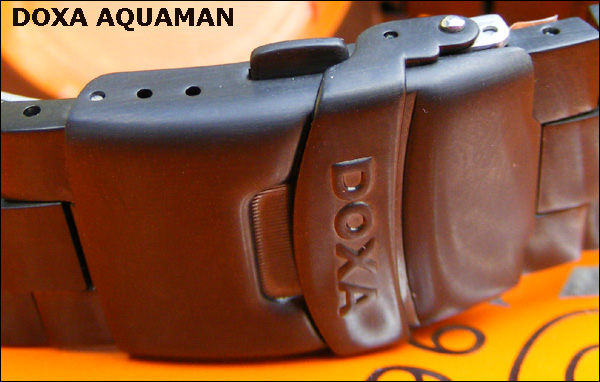 The watch movement is quartz – Ronda 715.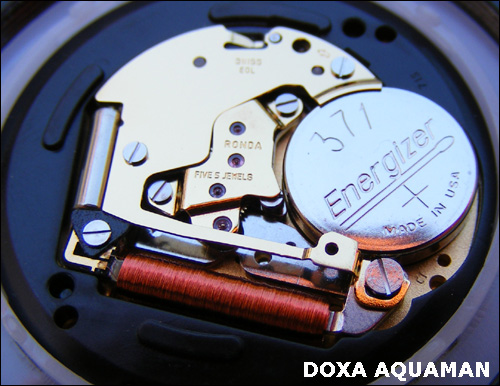 - - - - - - - - - - - -
DOXA Aquaman - specification:

Reference code: 650.10x.xxx.xx
Size: man
Case shape: round
Case material: stainless steel
Waterproofing: WR 100 m
Glass: crystal sapphire
Dial: silver, yellow, blue, orange, black
Hour's indices: index + Arabic figures (13-24)
Bracelet: metal bracelet, PVD black metal bracelet, rubber
Weight: 77 g without bracelet/belt, 101 g rubber belt, xxx g metal bracelet
Movement caliper: Ronda 715 quartz
Functions: date
Warranty: 2 years (International warranty card):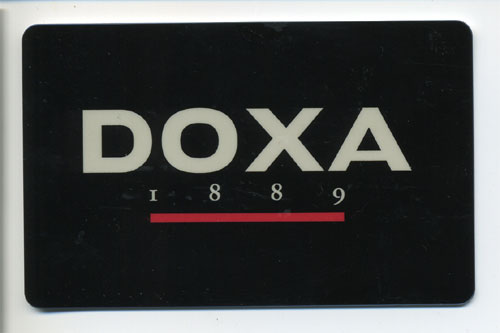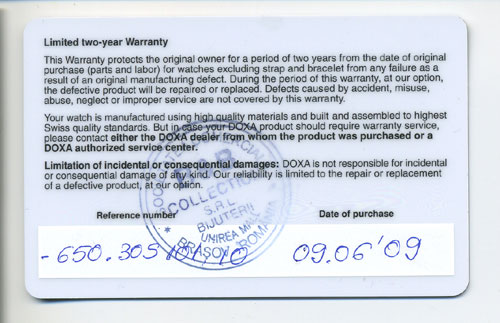 Few referential dimensions are presented in the next drawing: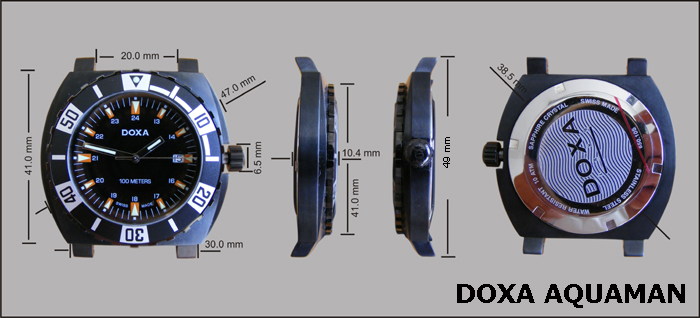 Brasov - May, 2009