BLUMBERG – BRAILA watch| a Romanian "private label"

Among the pocket watches "ordered for Romania" are numerous examples in which on the dial appear the name and location of a watchmaker, watches dealer or of a client that wanted to personalize the watch.

There is such a fashion in the epoch of pocket watches and of course that it was taken over also by us. So we will find numerous watches that are either to Bucuresci, Jassy, Brasov, Galatz, Braila or Fagaras. All have these "private labels" made by the watches supplier, on the dial.

Really spectacular are the pocket watches to which the producer added these personalized information on the movement, in addition decorating plaques or wheels with different motives.
These kinds of watches are known and highly appreciated, especially the ones with USA provenience.

For Romania, until now, it is known only one example, which we present next.

LONGINES dial marked "AD. BLUMBERG BRAILA", calibre 18.79ZZ, movement marked "LONGINES AD. BLUMBERG BRAILA" and on the swing patent 16834. Longines Museum through the amiability of Raymond Krebs has identified the watch:
* * *
"LONGINES with serial number 1335XXX
This is a model in 14k gold with LONGINES Ad. Blumberg Braïla printed on the dial.
It has been invoiced on 29th August 1903 to Messrs. Roller (Bucarest).
It is equipped with a movement calibre 18.79ZZ
Ad. Blumberg Braïla engraved on the movement."
(email Raymond Krebs – 30.aprilie.2009)
* * *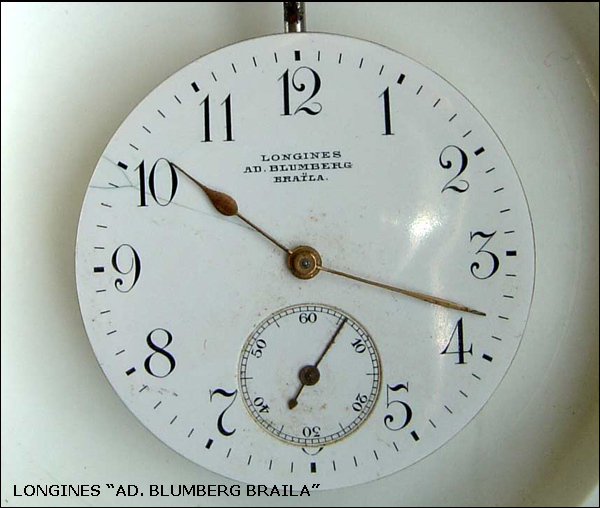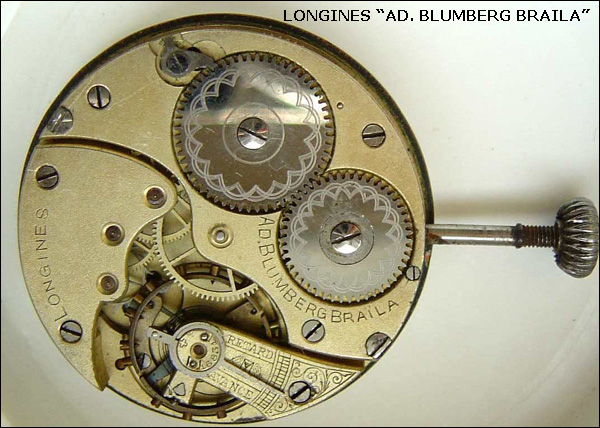 I also corresponded with Muzeul Brailei (Museum of Braila) from where, through the amiability of the historian Ghena Pricop I received a few information about who was Adolf Blumberg. He had a shop on the Royal Street in Braila (known as a place for promenade in the centre of the city). In "Annuaire de Roumanie/Guide-Dame/Districts/Renseignements generaux statistique, Guide du commerce, 1887" at page 21, is also mentioned Adolf Blumberg among other jewellers. In The Annular from 1913 he does not appear anymore, that makes possible that he activated somewhere during 1880-1910.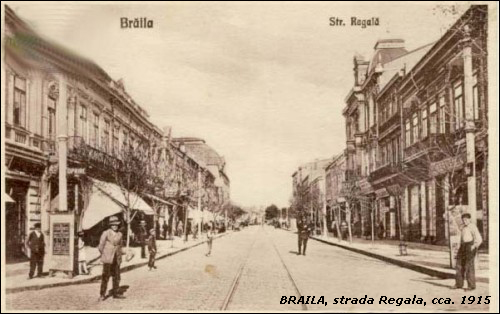 The Museum of Braila has in its collection a barometer marked "Adolf Blumberg, Bijouterie, Braïla" which is next presented.

note: unfortunately, the case of the watch in collection was not kept, only the movement with the dial exist, as presented.
* * *
Special thanks to Adrian Marinica for his support in the "Watches for Romania" project.
Thank for support in research to Raymond Krebs from the Longines Museum and to Mrs. Ghena Pricop and Mrs. Camelia Hristian from The Museum of Braila.